Comedy legends Galton and Simpson to visit Milton Keynes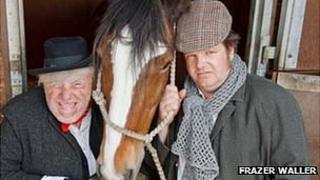 Comedy writers Ray Galton and Alan Simpson are to visit Milton Keynes to see a stage version of one of their classic shows, Steptoe and Son.
They will be at the opening night at the Chrysalis Theatre in Willen Park after working on the adaptation with David Pibworth from the Milton Keynes Theatre of Comedy.
As a professional writer and historian of comedy, Mr Pibworth, has also collaborated with the pair on stage scripts for Hancock and Hancock's Half Hour.
He said it was an "honour" to work with them two "giants in the history of British comedy".
"Through Hancock's Half Hour and Steptoe and Son in particular they have influenced pretty much every funny thing seen on British TV for the last 60 years," he said.
"After I got over the fact that I was talking to people that I really rather admired and liked, they're really nice south London guys who back everything we're doing. I loved working with them."
'Pretty faithful'
This show follows the company's successful recreations of other popular television shows such as Allo Allo, Return to Fawlty Towers and Blackadder the Third and Mr Pibworth is also currently working on Allo Allo 2 which he received permission to do from the late David Croft.
This latest production consists of three episodes of Steptoe and Son, the black comedy about the love/hate relationship between father and son, Albert and Harold Steptoe, who have a rag and bone business.
Mr Pibworth, who is also directing the show and playing Harold, explained that, like the other productions, the script remains true to the television series and has not been modernised.
"I think we've found a formula that people like," he said.
"You've got to keep what people want, the scripts are the same, we've adapted it from the television to the stage so there are different stage directions, but [other than that] it's pretty faithful," he said.
On whether adapting small screen stories for the stage works he said: "If something is funny on television or at the cinema there's absolutely no reason why it can't be funny on the stage too. To say something can't transfer from one to another is to give up on greatness and that would be a crime where Steptoe is concerned."
The writer also revealed that while there may be extra pressure on the cast having the creators in the audience, nerves were not an issue for the cast.
"They are very nice people so they're not going to come along and be taking notes, they will come along to enjoy it," he said.
Ray Galton and Alan Simpson said: "We are very pleased with David's adaptations and look forward to seeing the results and hope other companies will take advantage of these scripts for stage productions."
Steptoe & Son is on at the Chrysalis Theatre, Willen Park, on 3-5 November 2011.