Dog owner from Northall banned for animal suffering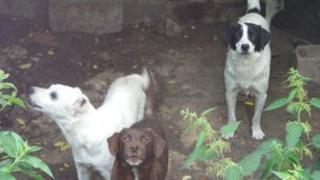 A woman from Buckinghamshire who kept almost 60 dogs in "appalling conditions" has been banned from keeping animals for life.
Amanda Hammond, 66, was given a 16-week suspended prison sentence at Aylesbury Magistrates Court on Monday after admitting animal suffering charges.
Hammond, of Slapton Lane, Northall, did not know how many dogs she had, the court heard.
She was ordered to pay costs of £8,971 for the RSPCA prosecution.
The court heard the charity's inspectors removed a large number of dogs from Hammond's cottage in June.
The dogs were living as a pack in insecure pens or in Hammond's home which was contaminated with urine and faeces.
Many of the dogs had some hair loss and skin problems.
Most were terrified and not used to being handled, the RSPCA said.
'Filthy and unhygienic'
All of the dogs were signed over to the charity apart from seven which were removed under the Animal Welfare Act.
Some of the dogs were put to sleep as they were ill, displaying aggressive behaviour or would not respond to human contact.
But a large number of the animals were successfully rehomed.
Hammond had pleaded guilty at an earlier hearing to failing to meet the welfare needs of 47 dogs.
She had also admitted two charges of causing unnecessary suffering by failing to provide two dogs with veterinary care.
She pleaded guilty to confining 11 dogs inside a cottage in a filthy and unhygienic environment.
Hammond also admitted causing unnecessary suffering to a sheep on 6 June by failing to keep dogs, which attacked and injured it, under control.
The court also ordered that Hammond should complete 200 hours of unpaid work.
Speaking after the case, RSPCA inspector Kirsty Withnall said: "The conditions in which these dogs were kept in were appalling.
"It was unfair for them to be kept in such conditions."