Wreath laid in memory of IRA St Albans bomber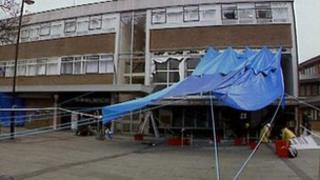 A wreath has been laid in memory of an IRA bomber blown up in St Albans 20 years ago, police have said.
Patricia Black and Frankie Ryan were killed on 15 November 1991 when a bomb they were carrying detonated early.
Police confirmed the family of one of the IRA members had marked the anniversary by laying a wreath on Saturday.
Peter Lilley, who was the city's MP at the time, said the action was a "huge insult".
A Hertfordshire police spokeswoman said a wreath was laid in the area where the bomb detonated.
She said there had been "no issues" for police to deal with in relation to the incident.
The bomb exploded in the doorway of the old Barclays Bank next to the Alban Arena.
The Blues and Royals military band were playing in the venue at the time.
One civilian was injured in the blast, but minutes later about 300 people would have been leaving the concert.
Mr Lilley, who was the Conservative Secretary of State for Trade and Industry at the time of the blast, said: "I am glad no-one responded with disorder because that would be emulating, in a small degree, the violence intended, on a large degree, by the IRA.
"The fact that it's a huge insult doesn't justify us responding in a lawless manner. The fact that people behaved with dignity doesn't make what they have done any less of an insult."
Black, 18, from Belfast, was in the Belfast Brigade of the Provisional Irish Republican Army.
Ryan, 25, had Irish parents but was brought up in Essex and went to Ireland in 1985 where he became involved in the Republican movement.