'Great Bed of Ware' gets lottery funds for Hertfordshire return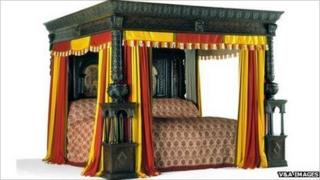 A bed so famous that Shakespeare wrote about it will return to Hertfordshire in 2012, thanks to lottery funding.
The Great Bed of Ware will be on display for a year, after the Heritage Lottery Fund (HLF) awarded £229,200 to the Ware Museum Trust.
The bed is thought to have been created in 1590 by Hertfordshire carpenter Jonas Fosbrooke for travellers on the pilgrim route from London to Walsingham
It will be on display from April 2012 to March 2013.
More than three metres wide, and publicised as being able to sleep 12, travellers were reputed to break their journey at Ware just to spend a night in the bed.
Reported guests include a party of butchers and their wives and a Bavarian prince. It became so famous that Shakespeare has Sir Toby Belch describe a sheet as "...big enough for the Bed of Ware!" in Twelfth Night.
New extension
Alongside the HLF award, Ware Town Council has contributed £10,000, Ware Museum Trustees have given £15,000 from their reserve fund and donations have been received from local people to support the project.
About half of the money will be used to pay for the bed's dismantling, re-erection and travel in government approved transport, and then getting it into Ware museum's specially built extension.
V&A director Martin Roth said the bed had "never before been off display".
"To remove the bed from the British Galleries, transport and reinstall it in another location is unprecedented, requiring much skill and dedication," he said.
The funding will also support an associated programme of activities including an exhibition telling the story of the bed in the context of Elizabethan social history, tapestry and lace making exhibitions and a performance of Twelfth Night.
A replica of one of the carved posts has also been commissioned as no one will be allowed to touch the actual bed.
'Interesting graffiti'
Ken Weeks, chairman of the museum trust, said the artefact was important to the town's history because it showed what Ware had been like over a period of time.
"It moved from inn to inn and it's got a history of the places that it stayed at and the people that slept in it. They carved their names on it and the graffiti is as interesting as the bed itself," he said.
Mr Weeks also said that the museum was "extremely grateful" for the HLF and V&A support for the project, and that the bed's visit would make a difference to the community.
"The Great Bed of Ware is woven into the DNA of the town, and through exhibiting it here we are able to get the heritage, history and the social history of the town to local people," he said.