Thirteen sentenced for Bletchley riots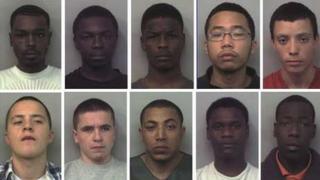 Thirteen people involved in disorder in Buckinghamshire during the August riots have been sentenced.
The 13, who are all male, local and aged 15 to 23, each admitted violent disorder in Bletchley on 9 August.
They were dealt with at Aylesbury Crown Court on Monday. The sentences ranged from a youth rehabilitation order to three years in prison.
Speaking after the case, police praised a woman who took pictures of rioters as they damaged her car.
Supt Nikki Ross said officers spent hours trawling through CCTV to identify those responsible.
Speaking of the 13, she added: "Their behaviour intimidated law-abiding members of the public and the differing lengths of sentence they have received reflects aggravating factors, such as violence, robbery, theft and criminal damage."
The defendants were sentenced as follows:
Mahad Abdi, 22, of The Hide on the Netherfield estate in Milton Keynes: three years in prison.
Nigel Baiden, 18, of Wakefield Close, of Neath Hill, Milton Keynes: two years and eight months.
Nicolas Balibuno, 18, of Diddington Close, Bletchley: one year and four months.
Resel Bray, 18, The Boundary, Oldbrook, Milton Keynes: eight months.
Aaron Cunningham, 19, Derwent Drive, Bletchley: two years and two months.
Charlie Fisher, 18, formerly of Conniburrow in Milton Keynes but now of Gladstone Street, Winsford, Cheshire: one year and eight months.
Jack Gore, also known as Mossman, 18, Tremain Court, Fishermead, Milton Keynes: 14 months.
Spencer Layne, 23, Faringdon Street, Monkston Park, Milton Keynes: two years and two months.
Pius Ofori, 18, of Porthleven Place, Fishermead, Milton Keynes: eight months.
Tafazwa Sibanda, 20, of St Giles Street, New Bradwell, Milton Keynes: 15 months.
A 15 year old was given a youth rehabilitation order.
A 16 year old and 17 year old, who also cannot be named due to their age, were given 12-month and six-month detention and training orders respectively.