Seven Stars pub in Dinton bought by villagers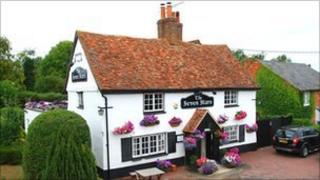 A group of villagers in Buckinghamshire have become the owners of their local pub.
The Seven Stars in Dinton was about to be sold when a campaign to save the pub was started.
A total of 65 residents came forward and raised the £360,000 required to save the pub for the community.
"The thought that our only remaining pub in the village might be sold convinced us that we had to act," said local resident Dick O'Driscoll.
"It was clearly a major undertaking to raise the money necessary to purchase the pub and shows a real sense of community spirit," he added.
'Village asset'
Rural grants organisation LEADER supported the purchase with a grant of £50,000.
"The community of Dinton felt so strongly that the village asset was to be protected that they had raised much of the money themselves by the time they came to us," said programme manager Nick Phillips.
"We were happy to support the project by topping up their funds," he said.
The pub was built in the 17th Century and is a Grade II listed building.