Plans to install 'smart' speed humps in Beaconsfield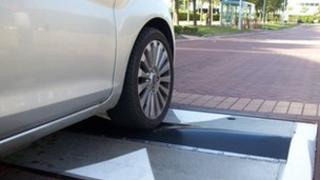 A Buckinghamshire council is looking to install 10 "smart" speed humps on one of its roads.
The humps automatically deflate if a driver is travelling within the speed limit.
Beaconsfield Town councillor Matt Denyer says vehicles regularly exceed the 30mph limit on Holtspur Top Lane in the town.
"The road has many sharp blind bends and is unsuitable for traditional-type speed bumps," he said.
"This method appears to be a perfect solution for the application we are looking for."
'Uncomfortable bump'
The rubber humps, produced by Yorkshire-based firm Dunlop Transcalm, are filled with air and have a pressure gauge which determines the speed at which a vehicle is travelling.
If a driver is below the speed limit, the hump deflates and lets them drive unhindered along the road.
Drivers breaking the limit experience an "uncomfortable bump".
The company says the hump deflates automatically for larger vehicles and does not impede bus or emergency services.
The units have previously been used in the City of London and cost £3,500 each.