Knitted Nativity figures tour St Albans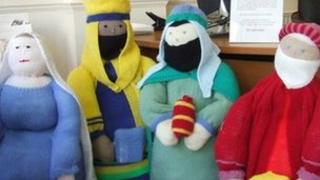 A Nativity scene with metre-high, hand-knitted characters is visiting businesses and landmarks in St Albans during Advent.
The figures, known as the 'knitivity', are the work of Anne Hudson whose husband Peter is a verger at St Albans Cathedral.
Mrs Hudson has spent over 500 hours creating the figures, using more than five kilos of wool.
Started in 2009, more characters are added to the Nativity scene each year.
"Last year I added a donkey and an angel, this year I've made two camels," said Mrs Hudson.
"For some people Christmas is more about presents and what's on the telly, I hope the 'knitivity' reminds people of the true meaning of Christmas," she added.
The 'knitivity' can be seen at St Albans Cathedral from 17 December and throughout the Christmas period.