Bedfordshire slavery probe: Seven face trial next year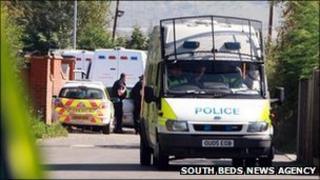 Seven people charged with slavery offences after a raid on a Bedfordshire travellers' site will face trial next year.
Brothers Jimmy, 23, Tommy, 26, and Patrick Connors, 20, appeared at Luton Crown Court on Monday
Also in court was their sister, Josie, 30, her husband, James Connors, 34, and family member, Johnny Connors, 27.
The siblings' father, Thomas Connors, 51, appeared via video-link. All seven deny the charges.
They were arrested following a police operation in September at the Green Acres caravan site near Leighton Buzzard.
The raid on the site came after police had received reports that men were being held against their will and made to carry out forced labour.
A number of men were found at the caravan site by police in the raid and taken from the site.
The seven were told their trial is likely to begin in April or May and could last three months.
All except Johnny Connors live at the Green Acres caravan site.
He lives in Chiswell Green Lane, St Albans.
Judge Michael Kay adjourned the hearing to another date in February.