Rapist Davinder Singh slashes arm in Luton court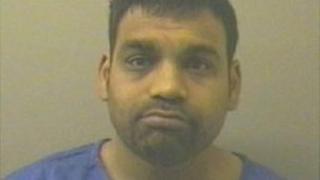 A convicted rapist slashed his arm in court and then held the weapon to his throat after claiming he was innocent.
Davinder Singh, 33, of no fixed address but from the Bedford area, was appearing at Luton Crown Crown after earlier being convicted of two rapes.
Singh produced a hair-pin from a bandana and slashed his arm while he went to address the judge, after claiming his trial had been unfair.
He was taken to hospital and sentencing was adjourned until Monday.
Taken to hospital
At the start of the sentencing hearing, judge Barbara Mensah was told that Singh had sacked his barrister and wanted to speak directly to the court on his own behalf.
Singh then made a speech in which he said his trial was unfair and that he was not guilty.
He then slashed his arm and drew blood before putting the weapon against the side of his neck.
Armed officers were called and the court was evacuated.
After about 20 minutes, Singh was taken from the court down to the cells and then to hospital for treatment.
Judge Mensah reconvened the hearing in a different court room.
She said: "I did not see his injuries but I cannot imagine he will be in hospital very long."
She said she intended to sentence him on Monday and was considering passing either a life sentence or an indeterminate sentence for public protection.
Complete stranger
The judge apologised to the victims who had been waiting all day to hear the sentence, but rejected a plea to sentence him in his absence.
She added: "It is clear to me that he is someone who is quite clearly deluded and he needs my sentencing remarks to be ringing in his ears."
Singh's defence at his trial was that both the complainants had had consensual sex with him, even though he was a complete stranger to them.
He was convicted at an earlier hearing of raping the two women in Bedfordshire.
Singh assaulted an 18-year-old in November last year in Bedford town centre and threatened to stab her, before raping her twice.
Two years earlier he had carried out a similar stranger rape on a 24-year-old woman.