Bedford council introduces quad bike to tackle winter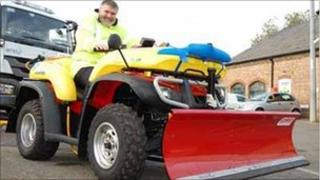 A special quad bike has been introduced by a Bedfordshire council to be "fully-equipped" for winter.
The bike will operate alongside Bedford Borough Council's gritter lorries ready to start work at short notice.
Fitted with a de-icing spray and snow plough, the bike will be used to clear pedestrianised areas and routes inaccessible to the lorries.
"We are committed to doing all we can this winter to keep the borough moving," said Mayor Dave Hodgson.
'Contingency plans'
The council has a gritting budget of £518,120, but says contingency plans are in place to enable it to spend more if necessary.
"We have approximately 7,000 tonnes of grit in our depot ready for the cold weather, with a further 3,000 tonnes on order.
"We have to keep things moving on our roads, so if we need more [grit] we'll buy more," said Mr Hodgson.
The council will have information on gritting runs and transport services when they are affected by bad weather.