Hertfordshire student Zara Brownless wins Young Apprentice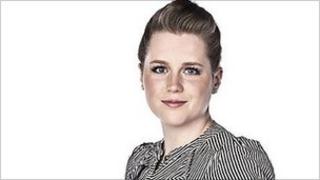 A 16-year-old student from Hertfordshire has been named the winner of this year's Young Apprentice.
Zara Brownless from Hemel Hempstead will receive a £25,000 fund to kick-start her business career.
She was told "you're hired" by Lord Sugar after a task on the BBC One show in which she and fellow finalist James McCullagh were challenged to devise an online computer game.
"To say this is a dream come true doesn't even come close," she said.
Lord Sugar praised Zara as a worthy winner.
"You're calm, articulate and you look to be in control of your emotions, which is a good thing when you're in business," he said.
"It was a hugely tough decision but Zara really showed wisdom and clarity far beyond her years."
Zara, who produces films for charities, added: "I've loved the whole Young Apprentice experience and taken so much from it.
"Now I'm so excited about what the future holds for my business career."