PC Hannah Quince guilty of illicit police computer search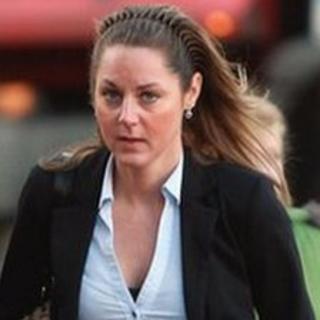 A policewoman who searched the force computer to look through confidential files on behalf of her boyfriend has been found guilty of misconduct.
PC Hannah Quince, 29, passed the information from a computer in Luton to Christopher Shri. He then tipped off his friend Ben Sturge, who was set to be arrested.
Miss Quince has since resigned from Bedfordshire Police.
She was found guilty of misconduct in a public office at St Albans Crown Court.
Quince carried out the searches just hours before Sturge was due to be arrested and interviewed by officers from the guns and gangs unit.
'Looked up intelligence'
She then passed on the information to him through Shri.
The jury found Quince, from Bedford, Shri, 30, and Sturge, 30, guilty of conspiracy to commit an act of misconduct in a public office.
They were all bailed by Judge Andrew Bright QC and will return for sentence in the new year.
Beverley Cripps, prosecuting, said that in November 2010 Quince had been based in Luton and dealt with sex workers in the town.
Shri and Sturge were long-time friends.
In November of last year Bedfordshire Police's guns and gangs unit was seeking to arrest Sturge for an alleged offence of conspiracy to possess a firearm.
Miss Cripps said: "Hanna Quince abused her position as a police officer to interrogate and look up police intelligence systems on behalf of Ben Sturge."
Phone records
She said the request to do it had come from Shri who had then passed the information to his friend.
"Any information she could get as to what police had on Ben Sturge would be very useful to Sturge," said Miss Cripps.
On the morning of 24 November last year, police went to arrest Sturge at his home in The Risings in Bedford.
He was not there but inquiries led police to his friend Shri at his home in Little Head Land, also in the town.
Soon after the police had left Shri's home, mobile phone records showed he had called Quince at her home.