'Big Society' plan at St Albans' Maltings Theatre extended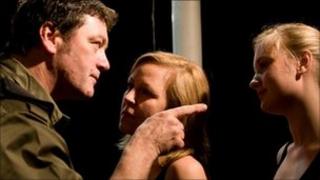 An agreement between a St Albans' theatre company and the council to run the city's Maltings Arts Theatre has been extended until June next year.
The volunteer-run group OVO first began a six-month pilot scheme in September, to deliver performances there.
Artistic director Adam Nicholls described the initiative as an example of the government's "Big Society".
The theatre's future was in doubt with the previous council administration planning to turn it into a cinema.
Meanwhile, St Albans District Council has been consulting on whether it should remain a live events venue.
Established in 2002, OVO used to perform its "innovative, imaginative and inspiring theatre" at its 40-seater venue in Pudding Lane.
After taking on the running of the 140-seat Maltings venue it has presented its own work there and managed a consortium of local artists and the venue is also available for hire.
'Audiences growing'
"There's a very good quality arts sector in St Albans, with a great set of local organisations and it seems only right to get them involved with running it," said Mr Nicholls.
In the first four months, 1,227 audience members have watched 27 performances in a programme that has featured theatre as well as live music.
"Audiences have been growing through the season and are 25% higher than they were at the start," said Mr Nicholls.
"We have also been inundated with companies wanting to produce there which shows there is a real demand from performers to use the space. We could have filled the period up to Christmas three times over."
Councillor Mike Wakely said the three-month extension would allow OVO to factor in longer-term bookings and build up loyalty for regular events.
"The council is delighted that the partnership with OVO has seen audiences returning to the theatre," he said.
"By extending the contract to June 2012, OVO can now plan ahead and book a wider range of acts."
Consultation on the venue's future will be completed in early 2012.