Karen Woo's Afghanistan aid legacy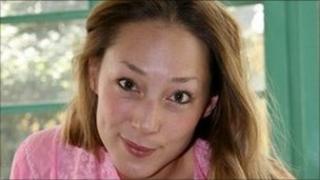 She had gone to Afghanistan to help others.
But Dr Karen Woo's life was cut short when she was shot during an ambush as she helped deliver medical supplies in the remote province of Nuristan.
Now, more than a year after her death, the Hertfordshire doctor's name lives on in a charity which supports healthcare projects in Afghanistan.
It is the work of the Karen Woo Foundation which is bringing some comfort to Dr Woo's mother Lynn, who helps organise fund-raising events for the charity.
Mrs Woo said: "Obviously life goes on and we've felt that the only way to carry on was through a charity, trying to carry on something of what she was doing in Afghanistan.
"We wanted to say [to Karen]: 'You haven't wasted your life, this is what you got going and you've inspired us now to see things through.'"
'Restless nature'
Mrs Woo revealed that what took her 36-year-old daughter to Afghanistan was a "restless nature", something that had also led her to being a doctor.
Dr Woo went into medicine having left school in Stevenage, Hertfordshire, at 16 to train as a dancer at the London Contemporary Dance School.
However, at 24, she decided to study medicine at University College London Medical School, from where she graduated in 2003.
"She loved the stage, which was strange because she was a shy, quite nervous child," said Mrs Woo.
"She didn't want to stay at school and do A-levels. She knew where she wanted to go, so we reluctantly agreed for her to go off to London to dance.
"However, she always had this restlessness and felt that she wasn't using her brain so decided to train as a doctor.
"But she always loved movement and dancing and I heard that she was dancing at the river before she was killed."
An inquest last week heard that Dr Woo had helped about 2,000 people during her third three-week trip to Afghanistan, where she treated mothers and young babies.
The inquest was told she was gunned down alongside six Americans, a German and two translators from Afghanistan.
It is believed they were attacked simply because they were Westerners - even though their presence in the area was humanitarian.
Mrs Woo said that following her daughter's death she felt "total hatred" towards her murderers.
'Good against evil'
"I just see them as that side of humanity that the rest of us must keep up against. It's almost simple, good against evil," she said.
Mrs Woo said that she now takes comfort her daughter looked so happy while in Afghanistan because she was not only using using her medical skills but was also making a documentary focusing on the plight of ordinary Afghans.
"She had always had this restlessness but now she was bringing her medical and performing talents together and could tell the world what was going on," explained her mother.
"She felt that as a doctor and a woman she could talk to people that others couldn't, especially women."
The footage she took was eventually shown after her death as part of a documentary The Life And Loss Of Karen Woo, in which her fiance Mark "Paddy" Smith retraces her final steps.
The Karen Woo Foundation, which is continuing her daughter's legacy, was set up by those close to her.
Dr Woo had started raising money before her final trip in August 2010 and in the October after her death, her friends and family decided they should go ahead with an already-planned fund-raising music event.
"It was a strange time, we were almost numb really so to have something like that to focus on helped," revealed Mrs Woo.
So far the foundation has raised about £60,000 which has helped send medical supplies to the country.
Next year, the money will fund a number of projects planned by the US-based charity ChildLight Foundation, some of which are healthcare schemes and others which involve education, particularly for girls, which also have an impact on health.
"[Money] will go towards very specific projects who will have to detail where the money's being used and that it's being used wisely," explained Mrs Woo.
She is proud that her daughter was doing something she passionately believed in and that she "lives on" in the legacy of her charity but does admit she did not want her to go on the trip.
"One of the last conversations we had was about how she had taken out war insurance and she told me I wouldn't have to worry if anything happened because her body would be flown back," revealed Mrs Woo.
"I said I would be devastated, which I was, but you can't stop them, they are adults and have to follow their own dreams and wishes and now I just have to make what sense of it I can."