CCTV image released after indecent assault in Bedfordshire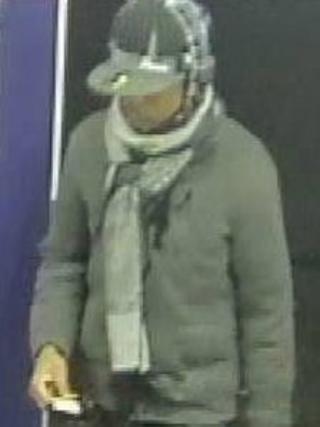 A CCTV image of a man has been released after an indecent assault on a train between Flitwick and Leagrave in Bedfordshire.
A 19-year-old woman was travelling on a train just after 07:00 GMT on 17 December when she was approached by a man who tried to talk to her.
He then indecently touched her a number of times before stopping when other people entered the train.
Anyone with information is asked to call British Transport Police.
Det Con Vicki Bladen, the investigating officer, said: "Thankfully the victim was not physically harmed, although she was obviously very shaken and intimidated by this man's behaviour."
The man is described as black with a skinny build. He was about 6ft (1.8m) tall and aged between 20 and 23. He had dark eyes, very white teeth, a goatee beard and braided hair to his neck.
He was wearing a purple cap with a big peak, dark jeans, a hoodie with a black and white scarf wrapped around it and a dark jacket.