Dunstable historian Vivienne Evans honoured with MBE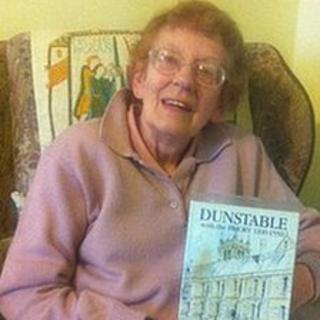 A Bedfordshire historian has been appointed MBE in the New Year Honours list.
Vivienne Evans, founder of Dunstable History and Heritage Studies, is being honoured for services to the community.
Ms Evans, who has lived in the town since 1960, said it was "a great shock" but said she was very grateful.
"I fell in love with Dunstable on arrival and am so glad to have had the opportunity to carry out my special work about its history."
Ms Evans has been a lecturer for the Workers' Educational Association for more than 35 years but at the same time has worked voluntarily in the town lecturing, researching and writing about its history.
Books she has written include Proud Heritage: A Brief History of Dunstable, 1000-2000 AD and Dunstable with the Priory, 1100-1550.
In the course of her research she has unearthed new information about the town.
She said she was most proud of discovering that Dunstable was founded more than a decade earlier than had originally been thought.
"Until I found that Henry I visited Dunstable in 1109, the Victorians had written that the town had been founded in the 1120s.
"I've enjoyed every minute working for and with Dunstable."
Other people living in Bedfordshire, Buckinghamshire and Hertfordshire to be given awards are:
Bedfordshire
OBE
Neil Caves, prison capacity programme manager at the Ministry of Justice
George Derbyshire, formerly chief executive at the National Federation of Enterprise Agencies, for services to enterprise
Peter Latham, chairman of James Latham plc, for services to the wood industry
MBE
Colleen Doherty, higher officer of the small and medium enterprises team at HM Revenue and Customs
Andrew Martin, formerly superintendent at Bedfordshire Police, for services to the police
Angela McBain, past president of the British Association of Dental Nurses, for services to dental nursing
Stephen John Nicholson, for services to St John Ambulance in Bedfordshire
Denise Poore, leader of Marsh Farm Sure Start Children's Centre, for services to children and families
Frederick Edward Wooding, for services to athletics in the east of England
Buckinghamshire
Knights Bachelor
Andrew Witty, chief executive officer of GlaxoSmithKline, for services to the economy and to the UK pharmaceutical industry
OBE
Anne Shirley Harrison, head of specialist operational support at the National Policing Improvement Agency, for services to public protection
Felicity Mary Hilder, founder of the Lymphoma Association, for charitable services
Christopher Inman, honorary treasurer at the British Fashion Council, for services to the fashion industry
MBE
Mohammad Bhatti, for services to local government and to the community
Glenis Carole Basiro Davey, of the Open University Science Faculty, and Health Education and Training Programme, Africa, for services to higher and health education
Brenda Mary Forty, for services to elderly people in Chesham
Sheila Gurnett, Girl Guide leader and community worker, for services to children and young people
Rosemary Jane Buchan Segrove, founder of the Beaconsfield Talking Newspaper, for services to people with visual impairment
Susan Marian Tither, Metropolitan Police constable, for services to the police
Alderman Kevin John Wilson, member of Milton Keynes Council, for services to local government
Hertfordshire
CBE
Stephen John Hammersley, chief executive of the Community Foundation Network, for services to philanthropy
Elizabeth Rushton, former principal and chief executive of West Herts College, for services to further education
OBE
Professor Celia Brackenridge, for services to equality and child protection in sport
Josephine Lilian Connell, vice president of Age UK, for services to older people
Amanda Jane Derrick, programme director of the Connect Digitally Programme at the Department for Education, for services to children and families
Nigel Antony Eastaway, for services to taxation law
Jehangir Sarosh, for services to interfaith relations
MBE
Margaret Mary Appleton, for services to museums and heritage
Alfred Robin Fisher, past master of the Worshipful Company of Glaziers and Painters of Glass, for services to architectural stained glass
Margaret Hackney, for services to healthcare and families in Hertfordshire
Avice Margaret Hall, principal lecturer, University of Hertfordshire, for services to higher education and to the community in St Albans
John Jones, master framer, for services to the arts
Margaret Elizabeth Lewis, for services to the community in St Albans
Barbara Joyce Owen, chair of the Three Rivers Museum of Local History, for services to the heritage of Rickmansworth and the Three Rivers district
Doreen Cynthia Parsonage, for services to the community in Wormley
Michael Alan Pigott, technical and development manager of Ballistic Protection at Ministry of Defence
Sue Urwin, probation officer at Hertfordshire Probation Trust, for services to offenders in Hertfordshire
John Russell Charles Wills, assistant director, MRC National Institute for Medical Research, for services to science