Traders 'devastated' at Friars Square shopping centre plans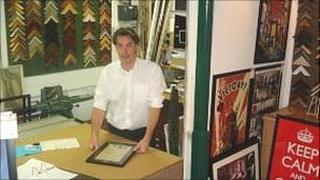 Independent traders in Aylesbury have been told they must leave their shops to make room for a new large store.
Managers of Friars Square shopping centre informed the 18 retailers in the Cloisters Indoor Market they must vacate their premises by 6 April 2012.
Centre owners want to put a new single store in the centre, which they say will attract more customers.
It is thought about 50 people will be affected, although some may be offered the chance to stay working there.
Friars Square currently houses 60 retailers and the Cloisters Indoor Market in the lower mall features a range of specialist shops including a cafe, jewellers, furnishing, toy and gift shops.
'Stab in the heart'
Karl Petermann who runs Vale Country Framing has been trading in the Cloisters for 15 years and said the news was "devastating" and that many shop owners would just be "wiped out".
"The town is already struggling - this is such sad news for all of us," he said.
"The council have tried to help us but to no avail. Once we've lost the small traders they won't be coming back and you will have 18 reasons less to come into Aylesbury - it's as simple as that."
Cafe owner, Carlos Baggati, 67, who recently spent his life savings refurbishing his cafe in order to sell it on and retire, described the news as a "a stab in the heart".
The proposed changes are being implemented by the centre's management team and the asset managers Grosvenor Fund Management who say it will "enhance the attractiveness of Friars Square and Aylesbury as a leading shopping destination".
Senior Asset Manager Helen Griffin said that while the work would have implications for a number of occupiers, they had started discussions with those affected to discuss the impact and relocation options.
"We are committed to working with occupiers to mitigate the impact of the proposals for them," she said.