Whipsnade Zoo begins annual stocktake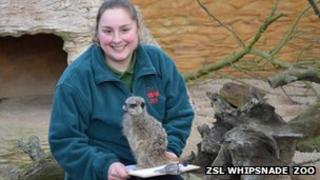 Keepers at Whipsnade Zoo in Bedfordshire have begun their annual stocktake of every animal at the zoo.
The zoo is home to more than 200 different species, and each creature - great or small - needs to be counted.
The compulsory annual count is required for the zoo to retain its licence.
The data is collated so it can be shared with zoos around the world to assist with breeding programmes for endangered species.
"The annual stocktake is an important, albeit mammoth, task," said curator Malcolm Fitzpatrick.
New arrivals
Last year saw the birth of two endangered lynx kittens, a pygmy hippo calf and an Asian elephant at the zoo.
"We've had some really exciting new arrivals, and we need to make sure that these and every other animal are counted, so that we can continue to work with other zoos around the world on our endangered species breeding programmes," said Mr Fitzpatrick.