Michael Jackson street dancer 'buried in shallow grave'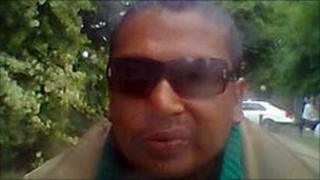 The body of a street entertainer from Hertfordshire was found buried in a shallow grave in a back garden with 17 stab wounds, a court has heard.
Mujib Hakim, 40, from Watford, known as the "Michael Jackson dancer", disappeared on 27 May last year.
His body was unearthed in a garden, covered by a curtain with his feet bound, almost three months later.
At St Albans Crown Court, Josh Lewis, 21, of Merton Road, Watford, denies murder and possessing a stun gun.
Mr Hakim, known as "Hak", spent most of his time dancing to Michael Jackson songs in Watford town centre, jurors were told.
'Kidnap kit'
Ann Evans, prosecuting, said Mr Hakim, described as a vulnerable man with mental health problems, was picked on by Mr Lewis.
Although there was no known connection between the two, the pair were seen on CCTV, walking towards Mr Lewis's house at 17:00 GMT on 27 May, she said.
Police officers investigating Mr Hakim's disappearance discovered his body in Mr Lewis's back garden during a search on 19 August, the court heard.
Inside Mr Lewis' house, officers found what Mrs Evans described as a "kidnap kit", containing seven knives, a Taser stun gun, scalpels, a roll of heavy duty plastic sack and an apron.
Two days after Mr Hakim went missing, on 29 May, Mr Lewis's friend, Kevin Keegan, helped him bury Mr Hakim's body in Mr Lewis's garden, Mrs Evans said.
'Digging noise'
The court heard Mr Lewis's neighbours Daniel Robinson and Jordan Glancy were woken by a rustling and digging noise during the night.
"Jordan looked into the garden and could see some sort of small torchlight and was also aware of the heads of two people in the garden," Mrs Evans said.
"She could hear the sound of digging, which she said was just behind the bushes. She jokingly suggested to Daniel that it was a body being buried.
"She was right. It was these two defendants burying the body of Mujib Hakim."
Mr Keegan, of Stroud Gate, Harrow, denies obstructing the coroner.
The case continues.