Bones discovered on Milton Keynes building site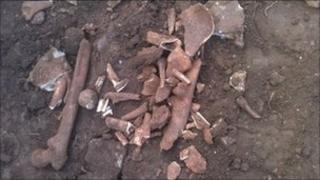 A set of bones which could be thousands of years old has been discovered on a building site in Milton Keynes.
The human remains were uncovered by a digger driver at the Taylor Wimpey development in Oakridge Park.
Forensic archaeologists established that the remains were not of recent origin and therefore not of police interest.
An investigation will now determine whether the site in Heathley Chase is of historical significance.
The bones are now in secure storage after being recovered and handed over to Milton Keynes Council.
The council's Senior Archeological Officer, Nick Crank, said that at the moment the only certainty was that the skeleton was beyond the age that the police would be interested in them, but it is "highly possible" that they were much older.
"Recovered during the excavations was a portion of lower jaw and the teeth on that show the extreme wear that we're used to seeing in archaeological contexts when people had a much courser diet, so they could be anything up to several thousand years old," he said.
He also revealed the council hoped to have further archaeological investigations carried out in the vicinity to see if there were any more remains or artefacts to be discovered.
"There is no graveyard known within that site, it could quite well be just an isolated burial," he said.
"I think it's too early to get too excited about this but once further investigations have been concluded and we've perhaps dated them scientifically or come up with some artefacts to go with the grave then we will really be able to understand its full context."