Milton Keynes Hospital infection control 'compliant'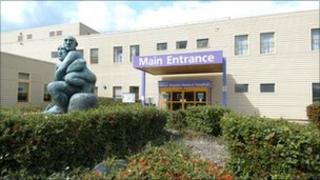 Milton Keynes Hospital has improved its infection control measures, according to the Care Quality Commission (CQC).
In October, the government watchdog had said there was a "major concern" over cleanliness.
The hospital was criticised for allowing invasive procedures without the use of protective clothing.
After a further inspection, the CQC has announced the hospital is now "compliant with infection prevention and control".
October's review was carried out by the CQC to check whether the hospital had made improvements following an earlier visit.
This inspection found that while the hospital was compliant with two of the essential standards inspected, there were still concerns with cleanliness and infection control.
At the time, Roxy Boyce, from the CQC, said while the hospital had made "considerable progress" to address the issues the CQC had raised in the past, it was "very disappointed" the hospital was not meeting the "essential standard of cleanliness".
"Infection control polices are in place but staff must adhere to procedures," she said.
New procedures
During the unannounced follow-up inspection in November, it was noted the hospital had introduced new procedures.
These included storing equipment on each ward instead of wheeling it around the hospital, storing waste bins in secure rooms and a new labelling system to indicate how often equipment needs to be cleaned.
Staff were also observed to be following cleanliness procedures such as washing their hands and wearing protective equipment before carrying out treatment.
Medical director Martin Wetherill said: "There were concerns and the hospital has taken those concerns very seriously. The hospital staff were very disappointed that we had let ourselves down and have been very compliant in making sure that we will not fail again.
"It is important to remember that Milton Keynes Hospital's rates of healthcare associated infection have declined year-on-year and compare well with the national average."