Charities see increase in food bank demand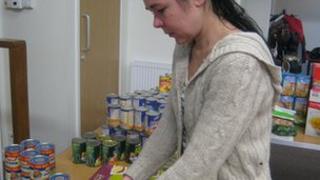 The demand for food parcels is rising, according to charities across Bedfordshire, Hertfordshire and Buckinghamshire.
The Trussell Trust says it has set up five new food banks in the three counties since July 2010.
The charity now has 167 food banks across the country, in 2010 it had 80.
Similarly, the New Zion Christian Fellowship in Welwyn Garden City says demand has doubled since last year.
The Luton corps of the Salvation Army says there was an increase of 46% in the number of food parcels it distributed in 2011.
'No income'
Sandra Groven from Welwyn Garden City uses a food bank at her church. She says she relies on the help because her benefits have been delayed.
"I've applied for job seekers allowance and still haven't had any payments, I'm living on no income whatsoever.
"If it wasn't for my friends I'd have no food, no roof over my head, and I'd probably be living on the streets," she said.
Sue Wall, from the Milton Keynes food bank, says the charity is struggling to keep up with demand.
"Demand is up 63% compared to last year, we're likely to give out about 9,000 food parcels this year.
"We rely entirely on volunteers and on donations of food. If people could buy just one extra item of food and donate an item to our food bank it would make a real difference," she said.
'Practical help'
Ms Wall explained that delayed benefits, job losses, debt, low income, and homelessness were some of the reasons why people were in need of the service.
"We're all finding that our money doesn't go as far as it did.
"If you're on a very low income, whether that be a benefit, a pension or a low salary, and if something goes wrong like you're cooker packs up, you may then find that you can't get that fixed and feed the family.
"That's where we come in and provide some practical help to buy them the space to sort out their problem," she said.