Atlantic rowers celebrate reaching Barbados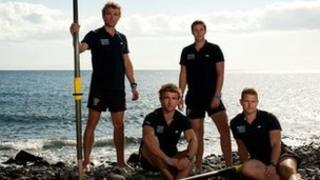 A Buckinghamshire man has said with understatement he feels "slightly jaded" after arriving in Barbados as part of the youngest four-man crew to row across the Atlantic.
Greg Symondson, 22, from Speen, was part of the Atlantic 4 rowing team, which finished the Woodvale Transatlantic Rowing Race in third place on 16 January after covering 2,623nm in 41 days, 23 hours and 34 minutes.
He said the most joyous time was when the lights of Barbados appeared on the horizon 12 hours before they made landfall.
But during the trip they looked forward to heavy rain which cooled them down and presented an opportunity to shower.
The team, which also included Suffolk's Adam Wolley, 23, and Ross and Hugo Turner, 23, from Exeter left the Canary Islands on 5 December 2011.
The Atlantic 4 crew spent the entire trip in a 29-foot long (8.8m) boat that is just 6ft (1.8m) across at its widest point.
Highs and lows
Daytime temperature in their single cabin reached 34C and the pair who were not rowing had to try and sleep in that sweltering heat.
The crew managed to raise £250,000 for Spinal Research through completing the challenge.
They had met in 2008 while studying at Loughborough University and worked on the expedition plan for about 15 months.
Mr Symondson wanted to row the Atlantic ever since TV presenter Ben Fogle and Olympic champion James Cracknell did it in 2006.
After mentioning his ambition to the Turner twins, the idea to row for Spinal Research came about.
It was a journey of highs and lows, Mr Symondson said.
"About 12 hours before we arrived, in the middle of the night, Ross (Turner) whispered so as not to wake the others who were sleeping 'look there's the glow of Barbados'.
"That was a great moment. I thought that's where they have humans, trees and grass.
"But the best times were when there was heavy rainfall. You get very salty and sticky and fresh rainfall was a blessing.
"When that wall of water hits you it wakes you up and makes you appreciate where you are.
"Five days before we landed we spotted a huge cloud so we got out the shampoo, stripped off and showered in the rain."
Meeting Miss Barbados
There were "hairy" moments too. A few times in the dark the boat went side on to the waves and the boat was in danger of being swamped by large waves.
As they approached their goal three days out one large wave hit the stern of the boat. It knocked over the rowers and the oar gates were broken.
Fortunately they were able to continue and now they have arrived they are looking forward to a rest.
Mr Symondson said: "A party has been planned, our sponsors are treating us like kings and we are to meet Miss Barbados later."
For Hugo Turner, who five years ago broke a bone in his neck when he jumped into the sea, it was a real test of recovery.
The team spent two hours on and two hours off rowing through the day with a three-hour stint during the night.
Mr Symondson also revealed they were taking about 300 snacks each in order to make up about 2,000 calories a day.
Jonathan Miall, from Spinal Research, said: "After such a close and gruelling race, we are so proud of these four young men for completing the challenge, not only safe and sound, but also at phenomenal speed."