Stowe school golf course move raises concerns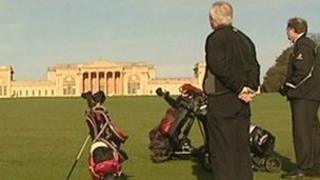 Proposals to move a golf course at a school in Buckinghamshire have been met with objections by local residents.
Stowe School and the National Trust want to move the course so the land can be restored back to its original 18th Century state.
People living near the independent boarding school say the plans will ruin the landscape and threaten wildlife.
"It's historic parkland which has remained untouched for centuries," said resident Sharon Crossman.
The new nine-hole course, which would be constructed on nearby parkland, is part of a £20m project to restore Stowe's house and gardens.
'Conservation concerns'
Ms Crossman also expressed concerns about public access and potential harm to wildlife.
"The area is criss-crossed with public rights of way and bridleways, so people have used this land in safety for years," she said.
"Over 44 different bird species have been identified on this site, many of which have conservation concerns.
"Once you put an artificial development like a golf course with its fertilizers, pesticides and irrigation systems in place, this environmental diversity will be destroyed."
'Long-term project'
Operations director at Stowe School, Nic Morris said the new course would fit as "sensitively as possible" into the landscape.
"We have been working with the trust for several years now and believe that the next logical step is to open up the western garden designed by Bridgeman in the 18th Century," he said.
"The course, as it is currently configured, sits right in the middle of the garden."
Mr Morris added he was confident the proposals would result in no loss of public right of way.
"We are actually going to formalise some of the desire lines where people want to walk at the moment and currently can't," he said.