Children's Great Art Quest project at MK Gallery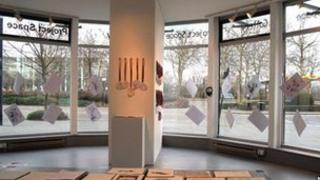 Artwork by children from Buckinghamshire has gone on public display.
The work is part of the Great Art Quest project, which partners schools with professional artists and art galleries.
Over 100 pupils from Langland Community School, Water Hall Primary, Ashton CE Primary and Yardley Gobion CE Primary in Milton Keynes have contributed to the exhibition at MK Gallery.
Teacher Julie Kemp said her pupils had benefited greatly from the experience.
"The project has enabled the children to make links between oral storytelling and visual arts in a way that could never have been achieved through our day-to-day curriculum.
"The excitement of visiting a gallery, working with a professional artist and experiencing wonderful storytelling skills, will hopefully now enhance their own creativity," said the Langland Community School teacher.
MK Gallery is one of four art galleries in the UK selected by The Prince's Foundation for Children and the Arts to take part in the project.