Gareth Gates plans performing arts academy for Buckinghamshire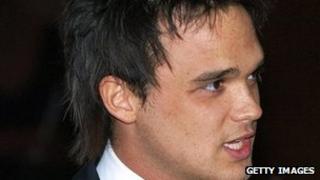 Singer Gareth Gates has announced plans to open a performing arts academy in Buckinghamshire.
The singer will run the school, for children aged three to 18 years, with wife Suzanne and fellow singer-actor Jonathan Wilkes and his wife, Nikki.
The couples are currently said to be considering venues in Aylesbury and Milton Keynes.
"It's about giving young kids a chance and an opportunity," said the former Pop Idol finalist.
"We've got so many contacts in the industry between us, that we can give them the opportunities they would otherwise probably never have."
'More confidence'
Alongside dance, singing and acting, the youngsters will also be coached in something close to the singer's heart.
"It's all about confidence," said Gates, who suffered from a profound stammer as a child.
"Not being able to speak very well as a child meant that my only form of expression was music.
"I wanted to be able to join performing arts schools and learn to act, but I never could.
"We want to be able to teach dance, singing and acting to children who just perhaps need a little bit more confidence in life," he said.
The new academy will join the group's other venues in London, Bradford, Stoke and Swindon.