£26m Luton sports village 'on course'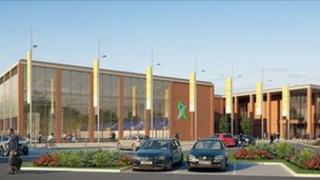 A new £26m Bedfordshire sports and aquatic centre is on course to open in July.
Luton Borough Council leader Hazel Simmons said she hoped the Inspire Luton Sports Village would be an "inspiration to the town".
"This venue is all about encouraging people back into sport," she said.
When completed, the centre in Hitchin Road will provide a competition standard Olympic-size 50m swimming pool, diving centre and sports hall.
'Health inequalities'
Ms Simmons added that the new sports village was "essential" to tackle health problems in the town.
"We have serious health inequalities in Luton and as a council we need to deal with that," she said.
"We hope that this facility will encourage families to come together, have fun and get involved in sporting activities."
The new sports village will replace facilities at Wardown Swimming Centre, Putteridge Recreation Centre and the Luton Regional Sports Centre which is due for demolition in August 2012.