Michael Jackson street dancer murder: Josh Lewis jailed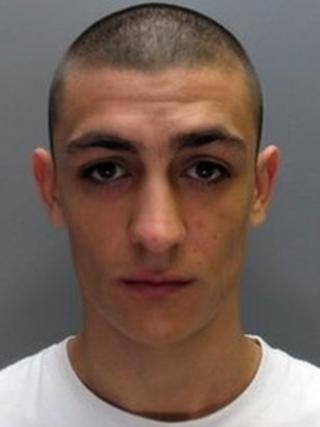 A "fantasist" who lured a vulnerable street entertainer to his death in Hertfordshire has been jailed for life for his murder.
Mujib Hakim, 40, who was known for dancing to Michael Jackson tracks in the centre of Watford, was stabbed 17 times in a frenzied attack.
He went to the Watford home of Josh Lewis, 21, on the promise of cigarettes or drugs in May last year.
Lewis denied murder and was convicted by a jury at St Albans Crown Court.
He was told he must serve a minimum of 24 years in prison.
The body of Mr Hakim, a university graduate who suffered with mental health problems, was buried in Lewis's garden and remained undiscovered for almost three months.
'Kidnap kit'
Prosecutor Ann Evans said Lewis had no obvious connection to his victim but police had pieced together a disturbing picture of preparations to kill a vulnerable man.
Officers searching Lewis's home found a "kidnap kit" which included seven knives, a stun gun, scalpels, bin bags, an apron, cable ties, gaffer tape, disposable gloves and a large plastic sheet.
After the murder, Lewis went to Watford hospital with a deep cut to his left arm.
He claimed he had cut himself while trying to fit a stair gate, but the court heard it was inflicted during the struggle with Mr Hakim.
Sentencing Lewis, Judge Stephen Gullick described the murder as "frenzied and ferocious", with very considerable force used to inflict wounds on the ribs, heart, lungs and liver.
After the case, Det Ch Insp Steve Collins said: "This was a complex case as Mujib disappeared without a trace.
"He had no known enemies and was described by his family and associates as a peaceful man.
"Josh Lewis is a manipulative man.
"He is also a fantasist and a young man I would regard as extremely dangerous."
On the judge's direction, the jury found Lewis not guilty of possessing a stun gun.
He had pleaded guilty to a charge of obstructing the coroner.
His friend Kevin Keegan, 22, of Stroud Gate, Harrow, was cleared of obstructing the coroner.