Welwyn Garden City A&E doctor 'sexually abused patient'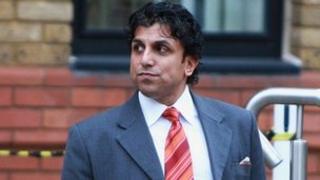 A doctor in an accident and emergency department sexually abused a woman who had a seizure, a court has heard.
The prosecution at St Albans Crown Court said Dr Hassan Khan assaulted the 21-year-old in a cubicle at the Queen Elizabeth II Hospital, Welwyn Garden City, Hertfordshire, in April 2011.
Dr Khan, 42, of Romford, Essex, denies two sexual assault offences.
Asked why she had not called out, the alleged victim said: "You trust a doctor. I just froze."
The jury heard Dr Khan was unexpectedly interrupted when a sister pulled back the cubicle curtains to say the patient's boyfriend had arrived at the hospital.
Jan Hayne, prosecuting, said the woman, from St Albans, had suffered an epileptic seizure and had bitten her tongue, causing it to bleed.
Cocaine use
Miss Hayne told the court: "This young lady alleges that what took place in that cubicle in A&E was not an examination appropriate for a lady who had suffered from an epileptic fit."
When the nurse entered the cubicle she was concerned that an intimate examination was taking place and that a chaperone had not been present, Miss Hayne added.
Giving evidence, the patient said Dr Khan had initially checked her reflexes, pulse and blood pressure, but then grabbed her chest and said he needed to give her an internal examination.
She said she and her boyfriend left the hospital soon after, but she returned the following day to find out how to make a complaint.
Under cross-examination by Stephen Brassington, defending Dr Khan, the woman said she had used cocaine the day before and it was something she was "not proud of".
'Kicked off'
Asked why she had not tried to alert anyone on the busy ward, with patients in other cubicles and nurses nearby, she said: "You trust a doctor.
"You don't expect that to happen and I just froze."
Mr Brassington said: "You could have shouted out: 'Stop'."
The woman replied: "You don't know how you will react in a situation until you are in it."
She agreed she had not told her boyfriend about Dr Khan while they were still at the hospital because "he would have kicked off, he would have got protective and he might have caused trouble."
The trial continues.