Welwyn Garden City A&E doctor's 'shock' at sex abuse claim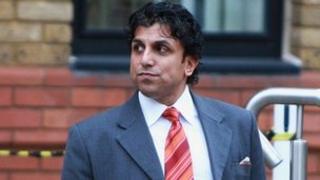 A doctor has told a jury he was in complete shock over an allegation he sexually assaulted a patient in an accident and emergency department.
Dr Hassan Khan, 42, of Romford, Essex, said he had to examine the woman from "head to toe" at the hospital in Hertfordshire after she suffered a fit.
He denies two sexual assault offences on 10 April 2011.
His alleged victim, aged 21, has told St Albans Crown Court that he touched her inappropriately.
The jury heard she did not cry out to attract attention to the cubicle at the Queen Elizabeth II Hospital, Welwyn Garden City, because "you just trust a doctor" and she "froze".
She had gone to the hospital after biting her tongue during a suspected epileptic fit at a barbecue, where she had been drinking on an empty stomach. She had taken cocaine the previous day.
'Check the tummy'
The court was told Dr Khan sexually assaulted her after asking her to undress.
A ward sister pulled back the cubicle's curtains during the alleged incident, causing Dr Khan to step back and "look really nervous", the patient said.
Giving evidence, Dr Khan told the jury: "I needed to examine her from head to toe to see if there were broken ribs or an injury to the tummy."
He did not carry out an internal examination, and but would have offered the woman a female doctor or chaperone if such an examination was necessary, he said.
He denied grabbing the woman's breasts or jumping back when the curtains were drawn.
The jury heard Dr Khan, of Eccleston Crescent, has been married for 10 years this year and has not worked since his arrest on 12 April.
The trial continues.