Bedfordshire A5-M1 link road public inquiry begins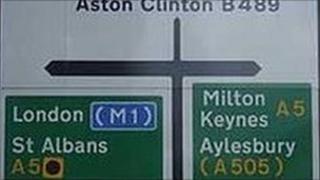 Plans to build a A5-M1 link road to relieve traffic in Bedfordshire are being discussed at a public inquiry.
The planned 2.9-mile dual carriageway will run east from the A5 north of Dunstable to the M1 at a new junction.
Dunstable residents have long campaigned for a bypass to relieve congestion in the town.
Central Bedfordshire councillor Tom Nicols agrees the road is "essential" for the area.
The A5 currently provides a route from Milton Keynes to the M1 at Junction 9, passing through Dunstable.
The new dual carriageway would join the M1 at a new Junction 11a to be built south of Chalton.
The link aims to reduce journey times for long distance traffic currently travelling through Dunstable, and reduce traffic travelling to Junctions 11 and 12 from the local road network.
Mr Nicols said: "The A5-M1 link road is essential to move heavy goods vehicles away from our towns and villages and provides the opportunity for real enhancement to the environment of Dunstable town centre.
"It will help reduce congestion around Dunstable and Houghton Regis while also attracting more businesses to the area."
The inquiry is taking place at the Superdrug distribution centre in Dunstable.