Elderly asked to fund emergency assistance aids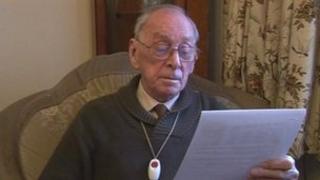 About 900 elderly people in Bedfordshire are being asked to pay for emergency assistance aid in their homes.
The telecare system provides personal detector devices which are linked to a central monitoring centre.
Central Bedfordshire Council says "budgetary pressures" mean it can no longer fund the system.
Pensioner Dennis Hare said people would now have to choose between keeping warm and paying for the service.
"I am being asked to pay £52.14 a quarter and I think that is totally wrong," said the 82-year-old.
Mr Hare said the system was invaluable for people to get assistance without having to give up their independence.
"It gives you a sense of security and you know that if you press the button then help is on the way," he said.
'Budget pressures'
The council says charging for the service will save £192,000 a year and it is introducing the fee because funding from central government has ceased.
"We want to make sure this service continues to be available to everyone who wants it, however as more people are taking up the service, the cost of providing the service has risen," said councillor Carole Hegley.
"With enormous pressures on our budget we had to balance the option of introducing charging across the board, or limit to a few users for free, or, increase council tax.
"Because of this, we made the decision to introduce charging for telecare in order to be as fair as possible to both customers and taxpayers."
Ms Hegley added that the new policy would be introduced after consultation with all current customers.
"We will be writing to all current telecare customers over the coming weeks advising them of how this will affect them," she said.