Hospital A&E sex assault doctor jailed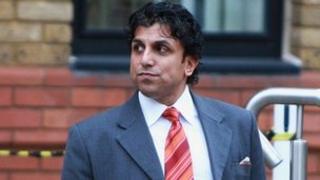 A doctor who subjected a patient to "shocking and distressing" sex abuse at the Queen Elizabeth II hospital in Welwyn Garden City has been jailed for three years.
Dr Hassan Khan, 42, of Romford, Essex, attacked the woman on 10 April 2011.
The victim was "sexually humiliated" during an examination at the accident and emergency department, St Albans Crown Court heard.
Khan had denied two sexual assault offences.
The court heard Khan squeezed the woman's breasts then told her to undress so he could give her an internal examination.
'Betrayed trust'
She had suffered a suspected epileptic fit and did not require such an examination, the court heard.
He was unexpectedly interrupted when a sister pulled back the curtain.
Khan denied carrying out an internal examination or that he had been nervous and jumped back when the ward sister appeared.
But Judge John Plumstead said the doctor "betrayed the trust inherent in patient doctor relationships".
He was also banned from having any contact with any female under the age of 21 and put on the sex offenders' register for 10 years.
He must also pay £5,000 towards the prosecution costs.
Judge Plumstead said the General Medical Council would decide on Khan's fitness to practise.