Getting through the motor neurone disease 'minefield'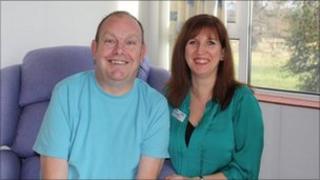 "Nothing really prepares you for the shock of the diagnosis of a disease that's going to take your life," said Colin Knight, who has been living with motor neurone disease (MND) for the past four years.
"Unfortunately, after the diagnosis it was a little bit of a minefield.
"I'd never sat in a wheelchair before let alone operated one, plus there were adaptations to the car [needed], all these things you have to learn about.
"There was nobody to say that this is the best way to do this or that."
However, Mr Knight, from Turvey, Bedfordshire, said he hoped having a new expert available would help others through that "minefield" so they would not have to undergo the same distress as him.
Bedfordshire will get a new dedicated MND co-ordinator - one of the first of its kind in the UK, and the first to be funded by the charity Sue Ryder.
Karen Coupland, who has been assigned to the post, will now have responsibility for the 55 people in Bedfordshire who have the currently incurable disease.
After diagnosis, those with the degenerative neurological condition are expected to survive an average of another two to five years.
"It is a lonely disease when there's no-one to support them," said Ms Coupland.
"If something's happening to them, [they want to know] how to respond to it and how to learn how to cope with it."
She said it was a disease which often required the patient seeing a variety of different specialists, and this new service would co-ordinate all that.
Ms Coupland, who will be based at Sue Ryder's St John's Hospice in Moggerhanger, will also assess new symptoms and provide advice about care and specialist equipment.
"But it's not only equipment they need, it's also emotional support," she added.
Mr Knight, 53, was originally part of a group set up of patients and health care experts to decide what could be done to help people in his situation.
'Very difficult time'
The former plumber, who was active in all types of sport, now has no movement in his legs and very little in the rest of his body and arms.
He said having someone to talk to who understood the illness - and how it will develop and affect his life - was essential.
"You resent the fact that, with all due respect, everybody else is getting on with their life as normal, but your life has been stopped," he said.
"You will never see retirement - never see old bones - it's a very difficult time and it's a very lonely time."
Mr Knight said it was important there was someone who knew "what's coming at me in the future" and to put forward his views on the care he wanted.
He added: "When things aren't going so well, it will be nice to have someone down-to-earth to rely on as a day-to-day support mechanism to talk about what's happening to me and to give me the encouragement I need to keep living with a long-term illness."