London 2012: Arlesey Football Club trio win Olympic roles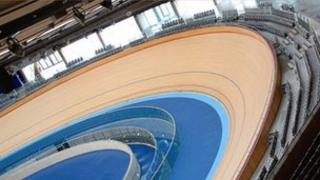 Three members of a Bedfordshire football club are to play key roles at the London 2012 Olympics.
Arlesey Town Football Club physiotherapist Len McMain has been asked to join the medical team at the Olympic and Paralympic Games.
Ken Gear from the club will be involved with the registration of athletes, while Dave Braybrook will work as a chauffeur at the Olympic Village.
"We feel as though we've scored a hat-trick," said Mr McMain.
"Having three people from the same club involved in the Olympics is really exciting."
Mr McMain, who also works for the Great Britain Community Lions and England Lionhearts rugby league sides, will cover the cycling events at the Olympic Park Velodrome as well as the wheelchair rugby and basketball competitions at the O2 Arena.
"I saw an advert for volunteers and thought I would apply," he said.
"I sent off my application and didn't hear anything for months - to be quite honest, I'd forgotten about it!
"Then I received an email asking me to attend an interview and was lucky enough to be selected."
The former Beds and Herts Ambulance Service paramedic said he was "looking forward" to working at the velodrome.
"Cycling is traditionally a strong area for Great Britain in the Olympics, especially with Sir Chris Hoy and Bradley Wiggins winning medals in the past," he said.
Explaining his role at the games, Mr McMain said the medical team would be "on hand" to support all competitors at the games.
"We will be there for every athlete from every country," he said.
"Our job will be to make sure that the athletes are able to perform at their very best.
"If they're feeling a bit stiff, have a tight muscle or pick-up an injury, then we can help support their own medical team to get them back to full fitness."
Mr McMain said he was "relishing" the prospect of actually being at the London Olympics.
"To be involved in the Olympic Games in your own country - it can't get any better than that - can it?," he said.