Sister 'helped brother Mohammed Riaz' after kidnap killing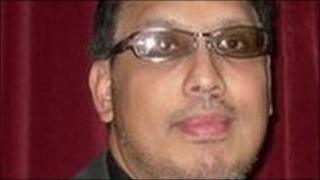 A man involved in the kidnap, torture and murder of his brother-in-law was helped by his sister when he needed to "lie low", a court has heard.
Mahmood Ahmad, 40, of Watford, was abducted and murdered by a gang led by Mohammed Riaz in March 2010.
St Albans Crown Court heard Riaz then headed to Wazierea George's home in Leicester, and his 43-year-old sister had not questioned why.
She denies assisting an offender. Riaz was jailed for 30 years in 2011.
He was convicted of conspiracy to kidnap, conspiracy to falsely imprison and conspiracy to pervert the course of justice.
Mr Ahmad had been tortured and killed at a flat in Ilford, Essex, to make him reveal the whereabouts of his sister Nahid, Riaz's wife.
Taken to restaurant
She had left the abusive relationship in 2008 and only members of her family knew where she was in hiding.
Mrs George, also known as Sophie, said she did not ask her brother why he had arrived at her house in Impey Close.
"He arrived late," she said.
"I made tea and cooked dinner for him. He seemed fine."
During questioning by Neville Rudston, defending, she said Riaz had not told her anything unusual and she would have turned him away if she had known he was wanted for a serious offence.
The next day, Mrs George and her husband Dilip drove Riaz to a friend's restaurant in Cheltenham, and he was allowed to stay at an address used by staff.
Police later arrested him at the property, and Mrs George told officers he had said he wanted to "lay low".
The court was told Riaz, then 34, and five others were jailed over Mr Ahmad's death, and that only the victim's thumb has been recovered.
Prosecutor Peter Shaw said: "Wazeira George, the defendant's sister, came to his aid in sheltering him and moving him at a time when she must have known that he was wanted by the police."