Record breaking Atlantic rower returns home to Buckinghamshire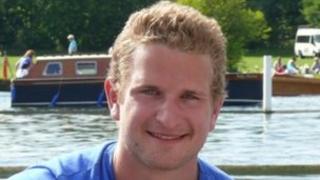 A Buckinghamshire man who was part of the youngest four-man crew to row across the Atlantic has returned home.
Greg Symondson, 22, from Speen, was part of the Atlantic 4 team, which finished the Woodvale Transatlantic Rowing Race in third place after covering 2,623nm in 41 days, 23 hours and 34 minutes.
Mr Symondson says he has no immediate plans to take on another challenge.
"But I am already thinking about what to do next," he said.
The team, which also included Suffolk's Adam Wolley, 23, and Ross and Hugo Turner, 23, from Exeter, met while studying at Loughborough University and worked on their expedition plan for around 15 months.
Mr Symondson said being back home "felt good" but also very "surreal".
"I can barely remember the race - it all went by in such a flash," he said.
Referring to his next challenge he said: "Something like the Marathon Des Sables, where you have to run five marathons in five days in the Sahara Desert - that's the sort of thing that I'm thinking about doing next.
"It would still be a huge endurance challenge, but in a much shorter time, which will I think would work better for my family," he said.
'Biggest success'
Completing the challenge has already raised over £250,000 for the charity Spinal Research.
"For me and the boys, raising that amount of money is the biggest success of all."
He added that the team hoped the final amount raised would be "even higher".
"We've still got the sale of the boat to come and that money will go straight to the charity too, so fingers crossed, we hope it will be nearer to £300,000," he said.
Mr Symondson is now looking for work and hopes that having Atlantic rower on his CV will help get his application to the "top of the pile".
"I think it's important for candidates to set themselves apart and do something completely different," he said.
"Hopefully potential employers will see rowing the Atlantic as just that!"