Lee Anstice denies murder of wife Tracy in Flitwick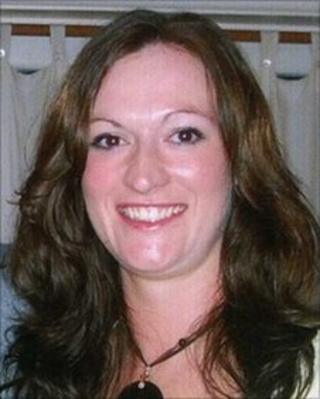 A jealous husband stabbed his wife outside her parents' home in Bedfordshire after refusing to accept the marriage was over, a court has heard.
Tracy Anstice, 37, died after she was attacked with a knife at Buttermere Close, Flitwick, on 26 August last year.
A jury at Luton Crown Court was told Mr Anstice stabbed his wife after their marriage broke down.
The 50-year-old denies murder.
Beverley Cripps, prosecuting, told the court on Monday that Mrs Anstice had left the couple's marital home in Carlisle Road, Dunstable, with their daughter last summer.
'Waited in car'
Describing Mr Anstice as "jealous and controlling", Miss Cripps said he had refused to accept the relationship was over, and had gone to live with his parents in Kidlington in Oxfordshire.
He learned his wife and Glen Feasey, a man he had got to know a few months earlier, had been together in Flitwick, so arrived there on 26 August to track them down.
He sent Mrs Anstice a text saying he was going to visit the couple's daughter at her parents' house, then sat outside in his car waiting for her to arrive, Miss Cripps said.
When his wife turned up, Mr Anstice attacked her on the driveway with a knife he had bought earlier that day in a supermarket, the court heard.
Miss Cripps said Mrs Anstice was trapped on the driveway between parked cars.
The defendant then plunged the knife into his wife's body a number of times and one blow pierced her heart, she said.
'Hearing voices'
He drove off but sent his wife a text a short while later, in which he referred to their daughter saying "Are you taking her back for happy families? Not now."
Mr Anstice is then said to have sent Mr Feasey a text saying he had just "split Tracy open".
Mrs Anstice died in hospital that afternoon.
The jury heard after his arrest for his wife's murder, Mr Anstice told police he had been hearing voices which told him to hurt his wife just as she had hurt him.
Miss Cripps said Mr Anstice had been treated for depression which was getting better and at no point in his dealings with health professionals and members of his own family had he once spoken about voices.
The trial continues.