'World's oldest' pancake race takes place in Olney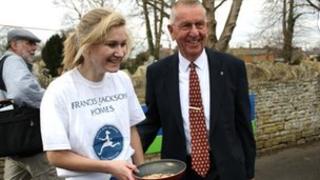 A Buckinghamshire town has held what is thought to be the world's oldest pancake race.
The race in Olney dates back to 1445 and is believed to have begun with a townswoman arriving late for the Shriving service at the parish church.
The winner, 18-year-old Devon Byrne, completed the race in a time of 58.5 seconds.
After crossing the finishing line, Ms Byrne was greeted by verger Ken Noon with the traditional kiss of peace.
The 24 female competitors included 80-year-old Isabel Ager-Righinioti, who finished in last place.
Many ran the race wearing aprons and headscarves and each carried a frying pan with a pancake.
Race organiser Ian Ford said it was important to keep the race tradition going in the town.
"We should be thankful that we still have some good old-fashioned English traditions remaining and celebrate them," he said.
The race was followed by a Shriving service at the Parish Church of St Peter and St Paul, where the prizes, including a silver frying pan, were presented.