Stab wife Tracy Anstice 'terrified' by husband's call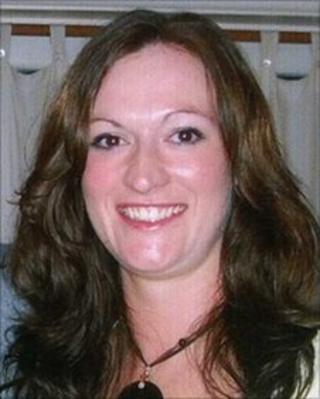 A woman stabbed outside her parents' home in Bedfordshire was terrified after a call from her husband, a court has heard.
Tracy Anstice, 37, died after she was attacked with a knife in Flitwick on 26 August last year.
Mrs Anstice's new partner, Glen Feasey, told Luton Crown Court she was scared her estranged husband, Lee Anstice, would take the couple's daughter.
Mr Anstice, 50, denies his wife's murder.
The jury heard Mrs Anstice had left the home she shared with Mr Anstice in Carlisle Road, Dunstable, with her daughter last summer.
Mr Feasey said his relationship with Mrs Anstice had begun in May or June last year, after his own marriage broke down.
Terror
On the day Mrs Anstice was killed, the pair had stayed overnight in Mr Feasey's flat in Flitwick, which was 15 minutes away from her parents' home in Buttermere Close, he said.
The court was told Mrs Anstice received a call from her husband on 26 August, saying he was going to visit their daughter at her parents' house.
Mr Feasey told the jury he could recall the terror on Mrs Anstice's face after the call.
"She looked up at me and said 'he's coming to get my daughter'," he said.
Mr Feasey said Mrs Anstice had asked him not to come with her to her parents' house as she didn't want a confrontation.
He had then called her mother to let her know she was on her way.
He told the court: "I said 'I think you should call the police'. I could sense whatever was going to happen wouldn't be good."
Stabbed in heart
Mrs Anstice went to her parents' home, where it is said Mr Anstice was waiting for her in his car.
When his wife arrived, Mr Anstice attacked her on the driveway with a knife he had bought earlier that day in a supermarket, the court heard.
It is alleged Mr Anstice stabbed his wife a number of times and one blow pierced her heart.
The court was told Mrs Anstice's screams alerted her parents inside the house, who called the police.
Mr Feasey said 10 minutes after Mrs Anstice had left him, her mother Patricia Bagnall called him on the phone, screaming "He's killed her... Lee stabbed her".
Mrs Anstice died in hospital that afternoon.
Mr Anstice was arrested later in Westoning, Bedfordshire, after his car was spotted by police.
In interview, he told officers a voice had told him to hurt his wife to make her feel some of his pain.
The trial continues.