Teenagers shot dead in Milton Keynes 'drug turf' dispute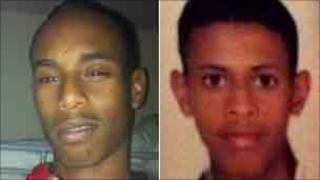 Two teenagers were shot dead in a drugs "turf war" in Buckinghamshire, a court has heard.
Mohammed Abdi Farah, 19, and Amin Ahmed Ismail, 18, were both shot in the head in Milton Keyes on 26 May last year.
St Albans Crown Court was told the men were killed after one of them handed out a drug dealer's cannabis for free.
Yahya Harun, 21, and Sharmake Abdulkadir, 21, both of Milton Keynes and Fuad Awale, 24, of no fixed address, deny a charge of murder.
Mr Abdulkadir, of The Fleet, Springfield, has also denied possessing of a firearm with intent to endanger life.
The court heard Mr Farah, from Birmingham, and Mr Ismail, from Ealing, London, who were of Somali origin, were shot in an alleyway on the Fishermead Estate just after 22:00 GMT on 26 May 2011.
Ben Gumpert, prosecuting, said a witness would tell the jury Mr Farah had been handing out free cannabis on the Saturday before he died.
'Selling drugs'
It is alleged the drugs came from Mr Awale's stock.
"One of the victims had been selling drugs on the day of the shootings," Mr Gumpert said.
"A dispute over "drug turf", where individuals establish the right, if that is the word, to sell drugs....seems the likely motive for the killing."
The court was told the defendants were seen at the entrance to the alley, minutes before the killings.
The men were seen arguing with the two victims moments before two shots were heard, Mr Gumpert said.
They were then seen gathered in a circle fiddling with what Mr Gumpert said could only have been a gun before Mr Awale returned to the alley and shot Mr Amin again.
Mr Farah was pronounced dead at the scene. Mr Amin was taken to hospital where he was pronounced dead after attempts to save his life failed.
"Whether it was Fuad Awale, Sharmake Abdulkadir, Yayar Harun or another of the group of five who actually fire the shots which killed the two victims is not of the first importance." Mr Gumpert added.
"The prosecution case is that all three defendants were part of a joint enterprise."
Mr Gumpert said for "different reasons" the other two in the group are not on trial.