Iron Trunk Aqueduct restoration nears completion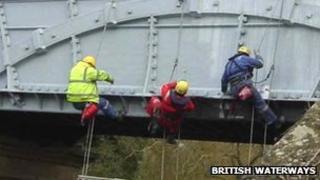 Work to restore an aqueduct on the Grand Union Canal in Buckinghamshire is nearing completion.
The repainting of the Iron Trunk Aqueduct is the final stage of a year-long £300,000 project to restore.
British Waterways has carried out the work to celebrate the bicentenary of the aqueduct.
The cast iron structure carries the Grand Union Canal across the River Great Ouse at Cosgrove, between Milton Keynes and Northamptonshire.
A team of painters were then required to abseil over the edge of the aqueduct to carry out the painting.
British Waterways spokesman James Clifton: "We were determined to replicate the original appearance of the bridge.
"If we had been working on dry land the job would have been easier and more straightforward to do."