Luton and Blackburn councils bid to tackle EDL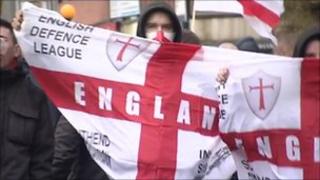 Councils in Bedfordshire and Lancashire are to join forces to tackle the impact of the English Defence League.
Luton Borough Council said it would work with Blackburn with Darwen Borough Council to investigate the culture of the EDL.
EDL and Unite Against Fascism (UAF) supporters both held protests in Luton in February 2011 and a further EDL protest could be held there on 5 May.
The EDL says it opposes Islamic extremism.
'Extremist minority'
Hazel Simmons, leader of Luton Borough Council, said: "The government has recognised the work going on here in Luton to combat an extremist minority that causes so much disruption to the peaceful majority."
She said the council had been working on a programme for several years aimed at working with people identified as being at risk of coming under the influence of extremist ideologies.
She added: "This work has been widely perceived as targeted towards Islamic extremism.
"The additional funding provided by the government will help us be seen to tackle the other side of the coin led by the EDL."
As part of the project, the two councils will work to help communities share their experiences of extremism, she said.
The announcement comes afterthe government published a paperlast week to improve integration within communities across England.
About 1,500 EDL supporters and 1,000 UAF protesters were involved in the protests in Luton town centre on 5 February last year.
Seven people were arrested during the marches, which ended without major incident and cost £800,000 to police.
The EDL formed in the wake of an anti-war protest, staged by a group of Islamic demonstrators during a homecoming parade by the 2nd Battalion The Royal Anglian Regiment through Luton town centre in 2009.
A crowd began a counter demonstration and the two sides were kept apart by a cordon of police officers.