New intensive care unit for Lister Hospital approved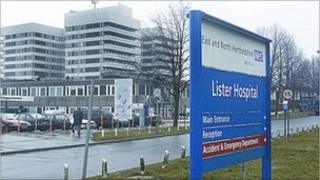 Plans to expand the intensive care unit at a Hertfordshire hospital have been given the go-ahead.
The East and North Hertfordshire Trust has approved the £2m proposal to develop the existing unit at Lister Hospital in Stevenage.
The 20-bed unit will match the current combined capacity of the Lister and the QEII hospital in Welwyn Garden City.
All the trust's intensive care services will be brought together in Stevenage by 2014.
The expansion of the intensive care service is part of the £72m phase four redevelopment programme for the Lister, which by 2014 will have had some £150m invested in it and will see it become the main emergency and inpatient hospital for east and north Hertfordshire.
Work on this latest project is due to be completed in October 2012, although some beds will remain at the QEII prior to their final relocation to the Lister.
'Improved flexibility'
The trust said the new centralised service will reduce patient transfers between the Lister and the QEII for non-clinical reasons and allow more patients to receive their intensive care at the trust, rather than being transferred to other hospitals.
Consultant anaesthetist Dr Pin Patel said: "We know that having the inpatient services located in one place improves our flexibility in supporting the patients who need to be admitted for intensive care.
"We know that we will be able to provide our patients with improved levels of care, whilst at the same time in a much better environment for them, their families and our staff."
It was a 2007 consultation which led to the decision to close many of the services at the QEII and transfer them to Stevenage, with the aim of providing all acute services for the area on one site.
The business case for a new £19m emergency department is awaiting final approval from the Treasury and the boards of NHS Hertfordshire and NHS Midlands and East will consider a £39m proposal for new ward and operating theatre blocks at the hospital in March.