Fishermead shooting victim 'tried to sell drugs'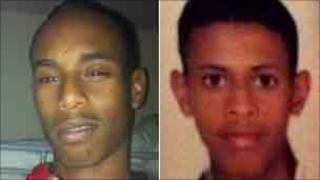 A teenager had offered cannabis to a passer-by minutes before he and a friend were shot, a court has heard.
Mohammed Abdi Farah, 19, and Amin Ahmed Ismail, 18, were shot in May 2011 in Milton Keynes in what the prosecution has described as a "drugs turf war".
Three men are standing trial for murder at St Albans Crown Court.
Leon Johnson said a man thought to be Mr Farah tried to sell him "weed" as he walked home. He later heard shots and saw men running "at a real sprint".
Yahya Harun, 21, and Sharmake Abdulkadir, 21, both of Milton Keynes and Fuad Awale, 24, of no fixed address, deny murder.
Mr Abdulkadir, of The Fleet, Springfield, has also denied possessing a firearm with intent to endanger life.
'Not a dealer'
Mr Johnson said he declined the drugs, and Mr Farah, from Birmingham, and Mr Ahmed, from Ealing, London, walked on towards Xscape.
When at home Mr Johnson heard two gunshots, then moments later a third, the jury heard.
He said he looked out of a window and "caught a glimpse" of two black men running "at a real sprint" towards the centre of Milton Keynes.
On Tuesday, a 17-year-old witness who cannot be named for legal reasons, said he had loaned £70 to Mr Farah, who had said he would use it to buy cannabis and "make a bit of money".
"He lectured me and told me not to do it so I don't end up in prison," the boy told the jury.
He added Mr Farah had stored a "stash" of cannabis in his bedroom and when questioned by Mr Ismail had claimed he was "not going to be a dealer".
'Be ready'
On the evening of 26 May, Mr Farah had offered drugs to a group of youths, the boy said.
The 17-year-old went home at about 21:40 BST and was told by Mr Farah to "be ready to open the door", as he was staying with the boy and his family.
He and Mr Ismail were shot in an alleyway just after 22:00 BST.
Ben Gumpert, prosecuting, has said the killings stemmed from a "drugs turf war" and a witness would tell the jury Mr Farah had been handing out free cannabis on the Saturday before he died.
The case continues.