Olney elderly care nurse role 'saved'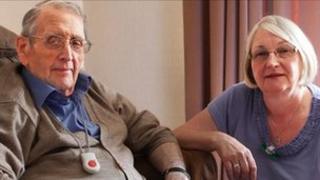 Campaigners who fought to save a specialist nursing role in Buckinghamshire said they were delighted the service could continue.
Supporters had raised £2,000 towards the £13,500 per year needed to fund Olney's support nurse for the elderly.
The town council has now agreed to make up the shortfall to continue the service until at least April 2013.
Trevor Yorke, from the Friends of the Cobbs Garden Surgery, said it was "a better result than they had hoped for".
In the unanimous decision, the council also made an undertaking to consider making up the fund-raising shortfall in years to come.
Mr Yorke said: "We are absolutely delighted not only to have received this grant but to also have a tentative promise of funding in the future.
"But we won't take our foot off the gas to raise funds and of course, if we are extremely successful, we won't need another grant."
Co-ordinate care
The service is offered to patients of Cobbs Garden Surgery who are not under the care of any other services.
The role, which involves visiting the isolated and vulnerable and liaising with relatives and other services to co-ordinate care, had been under threat since its NHS funding was withdrawn in 2011.
The town council put up the money to fund the post until April 2012, on the understanding the Friends would not apply for another grant in subsequent years.
Since then, the charity has been raising money through bequests and donations, but Mr Yorke said that due to the "financial constraints" of the current economic climate, it had been an "up-hill struggle".
Mayor of Olney Steve Clark said the council had originally encouraged the Friends to explore other possible sources of funding to allow the work to continue in the future.
"Unfortunately the financial climate has made this an almost impossible task," he said.
"However, we recognise the invaluable contribution made by the specialist nurse to the older residents of the area, and thus invited an application for a further grant to fund a second year."