'Great Bed of Ware' set to return to Hertfordshire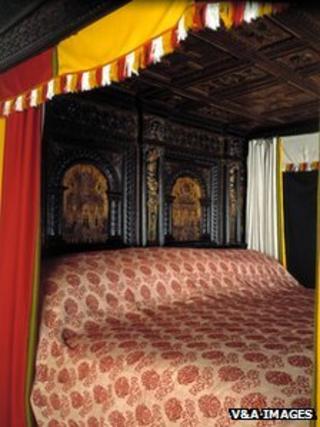 One of the Victoria and Albert Museum's (V&A) "greatest treasures" is set to be dismantled in readiness for its return to Hertfordshire.
The Great Bed of Ware will be on loan for a year from the V&A, where it has been since 1931.
Staff will take up to a week to dismantle the 16th Century bed, which has only been taken apart four times.
Martin Roth, V&A director, said: "The Great Bed of Ware is one of our greatest treasures."
On arrival at Ware Museum, it will take a further nine days for the bed to be installed in a specially-built extension and prepared for display.
"To remove the bed from the British Galleries, transport and reinstall it in another location is unprecedented," added Mr Roth.
The solid oak bed is thought to have been created in 1590 by Hertfordshire carpenter Jonas Fosbrooke as a tourist attraction for travellers on the pilgrim route from London to Walsingham.
More than three metres wide, and said to be able to sleep 12, travellers were reputed to break their journey at Ware just to spend a night in the bed.
Over the centuries, visitors have carved their initials and dates into the bedposts. Others dropped molten wax on to the wood and imprinted their signet ring into it.
The bed will be on loan for a year after the Heritage Lottery Fund (HLF) awarded £229,200 to the Ware Museum Trust.
Alongside the HLF award, Ware Town Council has contributed £10,000, Ware Museum Trustees have given £15,000 from their reserve fund and donations have been received from local people to support the project.
Kenneth Weeks, chairman of the Ware Museum Trust, said the funding would also support a programme of activities including an exhibition telling the story of the historic bed.
"The Great Bed of Ware is woven into the DNA of the town, and through exhibiting it here we are able to get the heritage, history and social history of the town to local people," he said.
"We want to involve all local residents in exploring the history of the town."
The bed will be on display at Ware Museum from April 2012 to March.