Fishermead fatal gunshot 'heard during 999 call'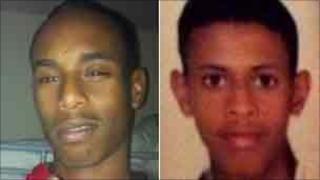 A man who called 999 after two teenagers were shot in Milton Keynes heard a third gunshot while on the phone to police, a jury has heard.
Mohammed Abdi Farah, 19, and Amin Ahmed Ismail, 18, were shot in May 2011 in what the prosecution has described as a "drugs turf war".
Three men are standing trial for murder at St Albans Crown Court.
The jury heard Lee Garrett's 999 call, in which he described the "gut-wrenchingly bad" scene.
He had heard two shots at just after 22:00 GMT on 26 May and phoned police after looking from his balcony to the alleyway and seeing two men.
'Get here quick'
Mr Garrett was heard telling the operator: "I heard two gunshots. There is someone lying in the alley - there is blood everywhere.
"It looks graphic. It looks really bad. It looks like he has been shot in the head. It looks really, really bad - gut-wrenchingly bad.
"There are two of them. One has been shot in the head. The other is crouched down near him."
Mr Garrett was then heard to say: "There is another gunshot. Get here quick."
Yahya Harun, 21, and Sharmake Abdulkadir, 21, both of Milton Keynes and Fuad Awale, 24, of no fixed address, deny murder.
Mr Abdulkadir, of The Fleet, Springfield, has also denied possessing a firearm with intent to endanger life.
Arguing with victims
A Belgian automatic pistol was found nearby on 1 July.
The jury has been told it bore traces of DNA, which matched Mr Abdulkadir.
It has been alleged that minutes before the shootings the men were seen at the entrance to the alley arguing with the victims.
They were later seen fiddling with what prosecutor Ben Gumpert has said "could only have been a gun".
One of the group, which Mr Gumpert has said was Mr Awale, ran back to the alley and delivered a third shot, to Mr Ismail's head.
A 17-year-old witness, who cannot be named for legal reasons, has told the court Mr Farah had tried to sell drugs to youths on the night of his death.
The case continues.