Illegal ravers in Milton Keynes confront police patrol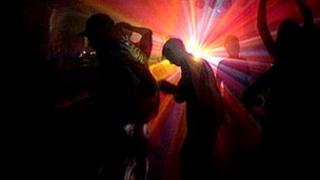 Illegal ravers threw bottles, coins and pallets at police officers during an operation to shut down an event in Milton Keynes on Sunday.
About 90 officers were confronted by 200 people at the rave on an industrial estate in Deans Road, Old Wolverton.
A police spokesman said some officers had had a car driven at them at speed and another officer had been confronted by 30 people while he was on his own.
The rave was discovered in a warehouse about 01:30 GMT on Sunday.
With the help of the Chiltern Air Support Unit, the rave was shut down at about 04:00 GMT. Police have said one person was arrested on suspicion of criminal damage.
'Violent disorder'
Supt Nikki Ross, local policing area commander for Milton Keynes, said: "Various warehouses in the city have been used by rave organisers already this year.
"My officers were patrolling to ensure none would take place on Saturday night, when they identified this one in the early hours of Sunday.
"When they attempted to bring it to a close they were confronted with a number of people intent on committing violent disorder.
"The message is simple: we will not allow Milton Keynes to become a place where illegal raves take place.
"Anyone who thinks they can come to the city, trespass on private property and organise a party can expect to be dealt with severely."